Museum
SING SING'S GATES CLOSE ON RICHARD WHITNEY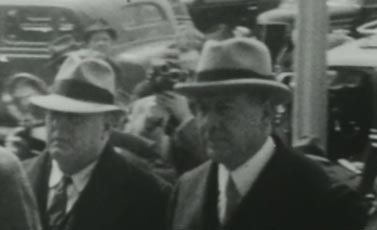 Treasures from the Collection
During the year, the virtual museum and archive will highlight significant primary and original materials on financial regulation unique to its collection.
The week of April 12, 1938, cinema patrons throughout America watched this Hearst Metrotone News of the Day newsreel of Richard Whitney, former head of the New York Stock Exchange - "the man whose downfall shocked the nation" - entering 'grim Sing Sing on the Hudson." Earlier that year, the New York Stock Exchange discovered that their former president and current member of the Board of Governors was an embezzler and his company insolvent. Whitney pled guilty and was sentenced to serve five to ten years for grand larceny.
The narrative follows Whitney "nearing the Big House" and "last to emerge, handcuffed to petty racketeers, a fallen idol," and concludes with "from this day forward, Richard Whitney becomes a number, No. 94835 Sing Sing Prison." Whitney was to serve three years.
For more on Richard Whitney, visit Precipitating a Palace Revolt in 431 Days: Joseph P. Kennedy and the Creation of the SEC Gallery, and The Chairmanship of William O. Douglas in William O. Douglas and the Growing Power of the SEC Gallery.